Internships aren't just for padding your resume. They're great for meeting people, building up valuable skills, finding out what you're truly interested in, and, let's be real, looking fabulous in business casual clothing. Having internship experience can be key to securing a job after graduation, finding the major that's right for you, or networking with potential future employers. Nonetheless, internships have their hidden costs, costs you may not fully be aware of when you agree to an internship. In fact, an unpaid internship can actually be financially draining.
Here are the hidden costs of interning and how to combat them!
Transportation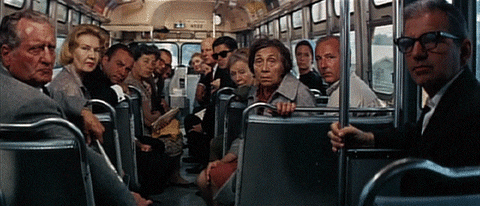 If you don't have your own personal form of transportation (which, of course, comes with gas and repair costs), you'll have to rely on public transportation. As a commuter in the DC area, I find that metro costs add up—even though I have a (meager) travel stipend. Finding alternative transportation routes can help. In DC, the metro charges by distance, but the bus is a flat rate. It may mean leaving earlier, but it can be totally worth it! Furthermore, if you know someone else at your internship that lives in your area or goes to your school, it's definitely worth seeing if you can carpool with them if they have an available form of transportation. Furthermore, some schools and internships offer travel stipends/scholarships, so don't be afraid to ask your supervisor or academic advisor if that's an option.
Meals
Eating can be expensive as well. Most internships will give you an hour or so lunch break. If you're interning in a city, that can mean an hour to go grab lunch or coffee somewhere down the block with fellow interns or your supervisors. While it's certainly not as glamorous or exciting, it's definitely cheaper to make your own lunch. Personally, I prefer some peanut butter and jelly! Buying a loaf of bread in the beginning of the week, plus some spread, can definitely cut down on a lot of the food cost and set you for several internship days. Furthermore, some internships will have days where they'll have food or at least some snacks, so keep an eye on your email for announcements about that. Lastly, I can say with confidence that every work place will likely have a coffee maker, so you don't need to swing by Starbucks every day! In fact, a professor once advised my class to never come into an internship with coffee especially if coffee is already made at the office; you don't want to look too much like you need it or you're too exhausted from that all-nighter you pulled (though you totally are). Just grab a mug once you get to your desk.
Clothing
Business clothing, even business casual clothing, can be extremely expensive. And then having enough outfits to spread out over the duration of your internship can really rack up the cost. Personally, I've found success in hitting up both thrift shops and female relatives for their clothing. The only downside is that the fit might not be perfect, but there's no shame in clothing being just a little bit too big (though I'd say to avoid clothing that's too short because they can turn embarrassing if you move the wrong way). Ask a friend you know who interned a previous semester if they'd rent out some of their clothing to you or do a clothing swap.
Academic/Social Cost
Okay, so this isn't a financial cost, but it's an emotional one. If you're interning 2-3 times a week, plus taking a full load of classes, your schoolwork just may suffer. Your sleep may suffer. Your mental state may suffer because you will have a lot more on your plate. Learning positive coping mechanisms can certainly help, but so will being open with those around you. If you feel overwhelmed by the amount of work put on you by your supervisor, let them know! It's perfectly okay to admit you're overwhelmed. You can't be a productive worker when you're overwhelmed, so communication is key to achieving the best emotional state.
Of course, interning isn't the only thing that will get you invaluable experience; part-time jobs, babysitting, classes, clubs and more can get you to the place you need to be. Furthermore, interning remotely is always an option for those who feel as though traveling to an office is too financially demanding.
So, always be mindful of cost when agreeing to an internship, particularly an unpaid one, but also know that there are ways to conquer those deterrents and come out strong!